49ers vs. Cardinals Point Spread – Free Pick ATS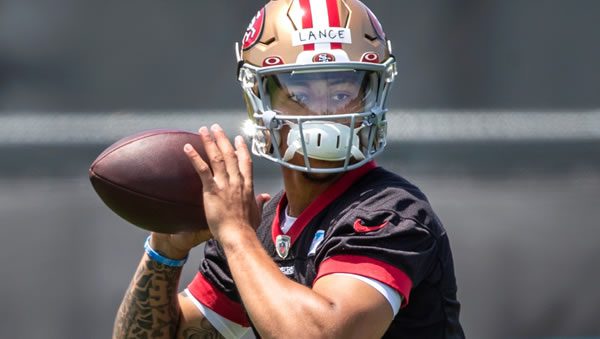 San Francisco 49ers (2-2 SU, 1-3 ATS) vs. Arizona Cardinals (4-0 SU, 3-1 ATS)
Week 5 NFL
Date/Time: Sunday, October 10, 2021 at 4:25PM EDT
Where: State Farm Stadium, Glendale, Arizona
TV: Fox
Point Spread: SF +5.5/ARI -5.5 (BetNow - Boost your bankroll with a 100% REAL CASH bonus up to $1000!)
Over/Under Total: 50
The San Francisco 49ers come to State Farm Stadium to take on the Arizona Cardinals on Sunday. This NFC West battle comes with some high stakes, as the Cardinals look to go to 5-0 to further confirm their arrival as a possible conference contender, while San Fran looks to keep their nose above water and not fall below. 500. In this division, it's important to keep pace. On Sunday, a 28-21 loss to the Seahawks saw more injuries lead to another loss, and the 49ers look to regroup once again on Sunday in a tough spot. The Cardinals took it to the Rams, 37-20, finally beating them after a prolonged run of losses. They look to take it a step further this week.
Problems for the 49ers
Other than the year they made it to the Super Bowl, the 49ers have been faced with a never-ending litany of injuries. This season, the injury setbacks already run deep. Their backfield, a big part of their game, is decimated. Their defense and O-line have taken hits, with Trent Williams going down last week. Jimmy Garoppolo's calf injury isn't serious, but he's questionable for Sunday. One wonders if it's time to give Trey Lance a whirl. For all of Garoppolo's abilities and credentials, it almost seems like he's run his course in this offense. He doesn't get a ton from a stocked receiver crew and lacks the dynamic play Lance brings to the table, albeit in a far-less experienced package. He was hot and cold in relief on Sunday after Garoppolo went down, but his legs seemed to revitalize an offense that can really use that ground production, and he made some good throws, as well. They even got the first pretty good game from RB Trey Sermon.
San Francisco Silver Lining
There have been times this season where the Arizona run defense has been vulnerable. Maybe Sermon and Lance, along with maybe Elijah Mitchell getting back, can put a dent in this "D" and open up the pass. Deebo Samuel is capable of putting together big games, as we've seen already a few times this season. With Brandon Aiyuk, George Kittle, and others, this is a team with viable weaponry. For all the excitement surrounding the Cardinals, most of it is offensively-based. There are aspects of their defense that can be good on a given day. But in total, there are holes. Their offense basically buried the Rams last week and made the LA offense out of sorts. I'm not sure their defense will always be able to rely on that in this spot.
The Niners haven't made their intentions clear as of press time in regards to the quarterback, but going against this run-defense, it would be advisable to use at least a decent dose of Lance. For a team that is suffering amidst injuries, having one injury pave the way for an upgrade at QB could throw a whole new light on this team's fortunes. Against a defense where they should conceivably have success, with some key skill-guys getting healthier, maybe this is a better spot than advertised for the San Fran offense.
Arizona Letdown Factor?
I'm not so sure this is an angle to overplay. The Cardinals faithful will provide robust fan support with the Cardinals pointed upward. Having not achieved any real success and playing in a tough division, I wouldn't expect a letdown in the truest sense of the word. But maybe it won't take a total letdown, just a slight ebbing of urgency to give the Niners a gap to exploit for ATS purposes. Vanquishing the Rams last week was an utmost priority. The Cardinals seemed to approach it almost with a postseason-type edge. They poured a lot into that effort. The week following a game like that, a reduction of the fever pitch can be expected.
More Picks: Get Loot's Browns at Chargers Spread Play >>>
Can the 49ers' Defense Bridge the Gap?
For this to work for the 49ers, they need their "D" to show up this week, something it has done to varying degrees through the first quarter of the season. They are also facing injuries but have still been vaguely respectable, at least in holding Seattle to 28 and Green Bay to 30 in their last two games. They might need to do a tick better this week. Kyler Murray has really dialed it in. They have a developing 1-2 running back punch with James Conner and Chase Edmonds. And their receiving crew's reputation precedes them. It's a lot to contain for a "D" that has been exploited at points the last few weeks.
The Niners' defense has built some depth over the years with all the injuries. They can sometimes bridge those injury gaps. And they're still intact enough to have a line that is varied and complete enough with guys like Nick Bosa and Javon Kinlaw to rain terror on this Arizona front. The secondary has been decent, bending at times but rarely breaking. So there are some signs that point to a slight SF upsurge on defense this week.
Take the Points on the Road Dog
I think the possibility of Lance offers some interesting possibilities for a team that needs them at quarterback in the 49ers. Arizona's defense may have been made to look better than it is last week, and between Samuel and the run-game getting better this week, maybe this doesn't shake out so badly for the Niners' offense. They really need this, and I expect an urgent effort, with there being enough matchup holes for them to exploit, quite possibly the Arizona run defense. If their defense can maybe make a few big plays and stops, I think San Fran can hold it together and keep this close. I'll take the 49ers.
Loot's Prediction to Cover the Point Spread: I'm betting on the San Francisco 49ers plus 5.5 points. Bet your week 5 NFL picks for FREE by taking advantage of a 100% REAL CASH bonus on your first deposit of $100 to $500 at GTBets!
$100% Cash up to $500

Free computer generated simulations for every weekend of the football season!
Crush your co-workers with Gman's office pool predictions where he picks every game both straight up and against the spread!