Green Bay Packers vs. San Francisco 49ers Odds & Picks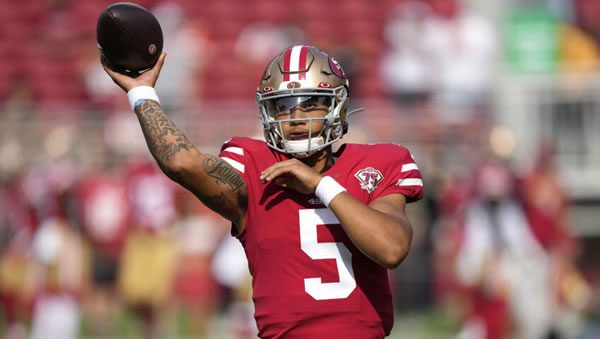 Green Bay Packers (0-0 SU, 0-0 ATS) vs. San Francisco 49ers (0-0 SU, 0-0 ATS)

When: Friday, August 12, 8:30 p.m.

Where: Levi's Stadium, Santa Clara, Calif.

TV: NFL Network

Point Spread: GB +2.5/SF -2.5 (BAS – Stop wasting your hard earned money! STOP laying -110 odds! Start laying only -105 TODAY which will save you BIG money!)

Total: O/U 33
Outlook
Preseason football is upon us, and it starts with a rematch of last year's divisional playoff rock fight between Green Bay and San Francisco without either of last year's quarterbacks involved. And that favors the 49ers because while they've moved on from Jimmy Garoppolo and will be starting their first-string offense and new quarterback Trey Lance for at least the first quarter, Green Bay still has Aaron Rodgers on its roster. However, Rodgers isn't going to play any preseason football, which means the job falls to Jordan Love.
On the one hand, Love was once a first-round pick and has been seen as Rodgers' heir apparent ever since the Packers took him. On the other, Love hasn't done anything at this level to even suggest that he's ready to take on an NFL defense, let alone one that's as deep as the 49ers. San Francisco will, of course, be playing a vanilla set of coverages as opposed to the full effort that Rodgers saw in January, but Love has seen preseason defenses before and didn't exactly handle them well. Green Bay put up seven points when Love got the start against Houston last season and then got blanked by Buffalo with Rodgers again on the sidelines. With the depth chart looking pretty slim after Love, the same can be said about the Packers' chances to cover this spread.
How the Public is Betting the Packers/49ers Game
The public seems to be strongly with the 49ers in this one, as the line has moved from -1 for San Francisco to -2.5, with signs that it might soon go to a full three points.
Injury Concerns
Green Bay:
Tackle David Bakhtiari (knee), wide receiver Christian Watson (knee), running back Kylin Hill (knee), kicker Mason Crosby (undisclosed), tight end Robert Tonyan (knee), guard Elgton Jenkins (knee), wide receiver Sammy Watkins (undisclosed) and quarterback Aaron Rodgers (personal) are out.
San Francisco:
Tight end Jordan Matthews (knee), defensive lineman Maurice Hurst (bicep), defensive lineman Hassan Ridgeway (quadricep), defensive lineman Arik Armstead (knee), defensive lineman Kalia Davis (undisclosed), cornerback Jason Verrett (knee), quarterback Jimmy Garoppolo (shoulder) and tight end Charlie Woerner (undisclosed) are out.
When Green Bay Has the Ball
The good news for Over bettors is that Jordan Love has reason to want to give this his best. With Aaron Rodgers back in Wisconsin and likely not going anywhere anytime soon now that he's signed through 2024, Love wants to get someone interested in him, and the best way for him to do that is to put out a good showing against the 49ers.
However, the Packers aren't likely to give him a lot of help. With both Sammy Watkins and Christian Watson sidelined, the Packers are already down multiple targets for the time where the starters play. Behind Love, the depth chart gets really thin really fast at quarterback for Green Bay. The only other quarterback on the roster is Danny Etling, who is kindly referred to as a camp arm. He's there only to allow the Packers to put someone out there who's actually decent enough to play quarterback for money without having to risk someone who might actually help them during the season.
Over the past three years, Etling has done nothing but practice for professional squads. He's been signed and cut by the Falcons, the Seahawks twice, the Broncos, the Vikings, the Jaguars, the Packers, and even the British Columbia Lions, all without ever throwing a pass against a live opponent for any of them. That's right: the guy not good enough to get playing time in the CFL is going to be spending more than half the game throwing passes for the Packers in this one.
When San Francisco Has the Ball
The 49ers have a little more to work with offensively than the Packers, in part because they have to get on the same page before the season starts and in part because they've got a lot more quarterback depth than the Packers. Lance is the unquestioned starter, but he's only going to last for a couple of series before he gives way to Nate Sudfeld. Sudfeld's numbers are nothing to write home about, but he does have some regular season action under his belt and should be able to handle the Packers' reserves.
Beyond that, the 49ers actually have a third-string quarterback whose name is familiar to many football fans: former Iowa State quarterback Brock Purdy. Unlike Etling, who's certain to be a camp casualty when the Packers get down to 53 players, Purdy is fighting to either make the 49ers, find his way to another team, or land on the practice squad. He's got plenty of incentive to put up his best showing to try to convince either the 49ers or someone else that he's worthy of a No. 3 quarterback job. That's what you want when you back a team in the preseason, as these games are often won or lost when the benches empty.
Betting Trends
The Packers have made it clear that they aren't playing to win in the preseason. Green Bay didn't come close to winning any of its three preseason tussles in 2021, and although the Packers went 2-2 in Matt LaFleur's first year in Wisconsin in the preseason, rookie coaches tend to take preseason more seriously than veterans (John Harbaugh excepted) because they're learning how to run the team properly. The Packers haven't won a single preseason game under LaFleur that wasn't played at Lambeau Field, and this likely won't change here.
The 49ers have taken a more serious approach to the preseason under Kyle Shanahan. They've gone 5-2 SU in the preseason over the past two years, and they've held their opponent to 17 points or less in all of those wins.
Weather Report
The weather should be perfect for football, with temperatures hitting 70 degrees at kickoff. Swirling winds could be an issue for the kickers, however, as gusts will blow at up to 15 miles per hour in a stadium well known for being tough on kickers. That shouldn't bother the 49ers, who have a healthy and accurate Robbie Gould, but without Mason Crosby, the Packers might think twice about kicking mid-range field goals.
Dan's Pick to Cover the Spread
For me, the main bets I'm looking at here are the 49ers to cover and the Packers under their team total. San Francisco has held four of its past seven opponents to 15 points or less, and with the Packers' depth chart a mess at quarterback with Rodgers sitting out, it's hard to see Green Bay getting to 15 without its starting kicker either.
I don't want to touch the main total because I think San Francisco could put up some points, especially with Purdy in the fourth quarter. I like the 49ers and their defense to land the cover with room to spare.