Jacksonville Jaguars vs. New York Jets Week 16 Pick ATS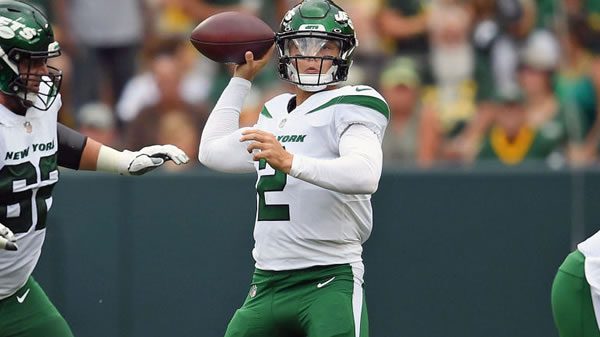 Jacksonville Jaguars (2-12 SU, 4-10 ATS) vs. New York Jets (3-11 SU, 4-10 ATS)
Week 16 NFL
Date/Time: Sunday, December 26, 2021 at 1PM EST
Where: MetLife Stadium, East Rutherford, New Jersey
TV: CBS
Point Spread: JAC +2.5/NYJ -2.5
Over/Under Total: 41.5
(Find the best sportsbook bonus >>> You can get 100% real cash at MULTPLE betting sites!)
The Jacksonville Jaguars take on the New York Jets on Sunday in AFC action from MetLife Stadium. In keeping with the flow of the season, both teams came up short on Sunday. The Jets fell to the Dolphins, 31-24, to go to 3-11 on the season. The Jaguars weren't able to see that mojo surface that sometimes occurs after firing a disliked coach, as they fell to 2-12 with an ugly home loss to the Texans on Sunday, 30-16. Who can get it done this week in East Rutherford?
The Problem with Jacksonville
One was within reason last week forecasting something slightly better for the Jaguars, with Meyer gone and the Texans coming into town. But it's starting to become apparent that the Jags are just stuck in a lost season. It's one thing to lose consistently, but at least be building toward something. Trevor Lawrence, however, isn't getting better. And that has a lot to do with the management of his development and a lot of other things also not getting better. The line is substandard, and with a pass-catching crew consisting of Marvin Jones, Laquon Treadwell, Laviska Shanault, and others, it's not a promising scenario most weeks. They are more or less left with RB James Robinson, a good back who often finds himself scripted out of games.
Sure, the context of this game could help some of these problems stand out less for the Jaguars. They're playing the Jets, squarely one of the worst teams in the league. But at home on Sunday, it didn't help the Jaguars' cause much to be against another bad team. There is a palpable deflation on both sides of the ball. And while one can hold out hope that they'll be in their wheelhouse against the lowly Jets, it's becoming iffy to expect a ton positive emanating from the Jacksonville team heading into week 16.
Are the Jets in a Position to Capitalize?
Alas, the Jets face a lot of the same problems—a young prospect at quarterback handcuffed by a poor line, a dearth of playmakers on offense, and a defense that leaves them out to dry more often than not. With this Jets' defense, it sometimes doesn't matter who they're playing or how down the opposing offense may be. They are simply awful. Last week, they gave up 31 to a Miami offense that was all out of sorts. The Jets' defense secured three turnovers and scored once, yet it still wasn't enough to get them over the hump.
A flat showing on offense from the Jets on Sunday was typical, with Wilson not taking flight with an aerial package that wasn't good to begin with, and now is battered with injuries. But at least Wilson cut down on aerial mistakes on Sunday. They got RB Michael Carter back, who might work himself into shape and has put forth some big performances this season. But with some playmaking on defense, the occasional spark in the run game, and some energy on offense sometimes visible, they're at least trying. Sure, it'll occur to you how bad they are when watching them, but there are no abundant signs that they're not into it mentally anymore. They're just not finding many answers overall.
MORE: BE SURE TO CHECK OUT OUR COLLEGE BOWL GAME PREVIEWS AND PICKS!
More Likely to Shine on Sunday?
In a game where there may be little to separate the two struggling teams, being intact with your offensive corps counts for a lot. Jacksonville is in there with Lawrence, Robinson, and receivers like Jones, Treadwell, and others. The Jets, already operating with a void of viable offensive weaponry, is now without Elijah Moore and Corey Davis, a big part of their aerial outlook this season. And trying to make it work, even on this level, with Jamison Crowder being your lead receiver, is a dicey proposition indeed. Even the return of Carter into this offense might not really pay off, as Carter's best games this season were when Wilson was out with an injury. Wilson likes to try to stretch the field, and Carter isn't getting the dump-off work he was getting with Mike White and others.
But does this slight edge in offensive personnel make all of the Jaguars' other problems go away? In the last five games involving both of these two teams, the Jets have lost twice conclusively, lost two close one-score games, and won a game. Jacksonville, meanwhile, has basically just been getting their butt kicked. It raises the issue of who is more mentally into this. And not to belabor the point, but if the Jaguars were to show signs of closing this season with some style, what better spot was there than being at home against Houston the week after Meyer was canned? A two-touchdown loss makes one wonder if a possible spike is even on the table. On the other hand, is a Jets team still being at least moderately competitive in spots.
Lay the Number
When splitting hairs along these lines, one never knows what will actually manifest on the field on Sunday. A Jets blowout, a Jaguars blowout, or anything in between would not register as any kind of shock. I can't help but think at this point, and in this context, the overall spirit of a team might trump what are perceived as being matchup edges for a team. Jacksonville's more-intact offense, better aerial weaponry, and a better overall defense loom as concerns for those backing the Jets. Also, a source of concern is a Jaguars team that might not have packed it in mentally yet but seem pretty close. I'll take a whirl on the Jets at home this week.
Loot's Prediction to Cover the Point Spread: I'm betting on the New York Jets points. Bet your Week 16 NFL picks for FREE by taking advantage of a 100% REAL CASH bonus on your first deposit of $100 to $500 at GTBets Sportsbook!
Beat your bookie with our NFL underdog BEST BET of the week!
Beat the bookie with our Weekly NFL player prop bets!
List of this week's line moves, why they happened and whether they're worth betting or not.
Free computer generated simulations for every weekend of the football season!
Crush your co-workers with Gman's office pool predictions where he picks every game against the spread!