Steelers vs. Chiefs Odds & Pick 12/26/21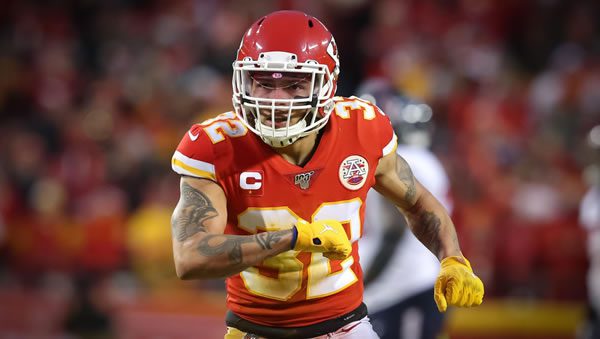 Pittsburgh Steelers (7-6-1 SU, 6-8 ATS) vs. Kansas City Chiefs (10-4 SU, 7-7 ATS)
Week 16 NFL
Date/Time: Sunday, December 26, 2021 at 4:25PM EST
Where: Arrowhead Stadium, Kansas City, Missouri
TV: CBS
Point Spread: PIT +9.5/KC -9.5 (Betanysports – Did you know that you can bet on games at -105 odds here? Why are you still betting on games at -110??? What a waste of your hard earned $! Be smart! Be wise! Make the switch to cheaper odds! You'll be so glad you did!)
Over/Under Total: 45.5
The Pittsburgh Steelers come to Arrowhead on Sunday for a big week 16 AFC showdown with the Kansas City Chiefs. Coming off the long week, the Chiefs forged a strong overtime 34-28 win over the Chargers last Thursday, their tenth win of the season. After some uneven spots, they have now won seven games in a row. They look to make their push to a top-seed in the playoffs, but first must beat a Pittsburgh team that showed they're not ready to wave the white flag, scoring an impassioned 19-13 win over Tennessee on Sunday to get back over .500. There is a lot on the line for them this week.
How Tough is this for Pittsburgh?
This is a tough road-spot for a Steelers team that at this point needs a certain script in order to thrive. This latest surge for the Chiefs shows them doing a lot of things that are all wrong for the Steelers. One is the 180-degree turn the KC defense has made over the second-half of the season, morphing from readily-exploitable to ultra-serviceable. They're getting after the quarterback, playing well against the run in spots, and making a lot of plays. And they've been doing against some pretty good offensive lines. Against this bad Steelers' front, this part of the matchup looms as a major hurdle for Pittsburgh.
Even if the Steelers manage to get pieces back that will help, the combo of Tyreek Hill and Travis Kelce, with Patrick Mahomes getting into his late-season mindset could be a major problem for the Steelers this week. And even if the Steelers somehow manage to subdue that part of the Chiefs' attack, we see Kansas City getting healthier in the backfield. This is a part of their offense they want to have fully fired-up going into the playoffs. Against a Steelers' defensive front that gets holes opened on them you can drive a big-rig through, this also looms as another trouble-area for the Steelers this week.
There could be an angle for a naysayer to claim the recent KC defensive surge was due to their opposition and that last week we saw more of what can occur against a more-functional group. But leading to that game, the Chiefs had allowed 9 points in three straight games. I'm not so sure how much of a smoke-and-mirror show it could really be, especially against a Steelers' offense that has enough of its own issues. But then again, maybe it's possible that this Chiefs' defense has been made to look better than it really is. With Ben Roethlisberger flaunting some actual weapons and coming to the end of his career, perhaps we see a little surge. This is one of the last chances he will have to make an impression.
Have the Books Caught Up?
It's not often a two-time defending conference champion like the Chiefs will put together stretches of covering five straight spreads. There is a different feel to the way they're achieving success. It's not always the offensive free-for-all. Not every game sees Tyreek Hill or Travis Kelce going nuts, though both are over 1000 yards. It's just that more spread-out distribution and the defense subtly controlling games in spots makes the Chiefs less-noticeable, but not necessarily less-effective. With a lot of splashy teams in the league and after a slow start, maybe people aren't fully wrapping their heads around the full scope of what the Chiefs represent—a team that can flex a lot of different things that has the clutch and big-game experience that gives them the edge in navigating these big spots late in the year.
More Picks: Get Loot's Chargers vs. Texans Predicted Point Spread Winner >>>
Immeasurable Qualities of Pittsburgh
There are a lot of strictly-football elements that paint the Steelers in a bad light. They can't run the ball well and they can't stop the run. Their aerial attack is middling and they have a rickety QB at the very end of his rope working behind a bad line. But at this point in the season, other things matter. And this being Big Ben's swan song could give rise to some team-wide energy. They play hard for Mike Tomlin and last week's win put some wind in their sails.
In other words, perhaps a different measure of this game is required. One could expect a heartfelt effort, if nothing else. We see a defense that can maybe start playing over its head, using energy and big plays to help mask their many deficiencies. If they could just get some more consistent production from their major contributors, with Najee Harris, Diontae Johnson, and Chase Claypool often going silent for long stretches. And no longer having viable tight end play amidst injuries also hurts. In a spot like this, they're going to need more than Roethlisberger gutting it out, along with good field-goal kicking. Against the Chiefs and assuming their "D" won't magically be able to curb all their weapons, the Steelers are going to need to see someone jump up here and perform.
Take the Points
Again, from a strictly football point-of-view, the Chiefs can make a lot of sense if looking to make that case. I just sense that the Steelers are going to act accordingly and see their desperation resonate here in a tangible way. It's not an easy spot for the Steelers and certain football realities could come crashing down on them at any point. But something tells me they'll be in this game and even if it doesn't shake out their way, I see them giving the Chiefs a little run for their money. I'll take the Steelers.
Loot's Prediction to Cover the Point Spread: I'm betting on the Pittsburgh Steelers plus 9.5 points. Don't forget to check out our postseason college football picks!
Beat your bookie with our NFL underdog BEST BET of the week!
Beat the bookie with our Weekly NFL player prop bets!
List of this week's line moves, why they happened and whether they're worth betting or not.
Free computer generated simulations for every weekend of the football season!
Crush your co-workers with Gman's office pool predictions where he picks every game against the spread!