[et_pb_dcsbcm_divi_breadcrumbs_module hide_homebreadcrumb="off" homebreadcrumbtext="Home" separator="sep-raquo" hide_currentbreadcrumb="off" homebreadcrumborientation="left" _builder_version="3.8″ fontsbreadcrumbs_font="Lato||||||||" fontsbreadcrumbs_text_color="#000000″ fontsbreadcrumbs_font_size="15px" fontsbreadcrumbs_line_height="16px" fontsseperator_font="||||||||" fontsbreadcrumblinks_font="||||||||" fontsbreadcrumblinks_text_color="#2567cf" custom_margin="25px|||" custom_margin_phone="30px|||" custom_margin_last_edited="off|desktop" custom_css_main_element="font-family: Helvetica Regular;" global_module="3641″ saved_tabs="all"][/et_pb_dcsbcm_divi_breadcrumbs_module]
Appalachian State vs Penn State Pick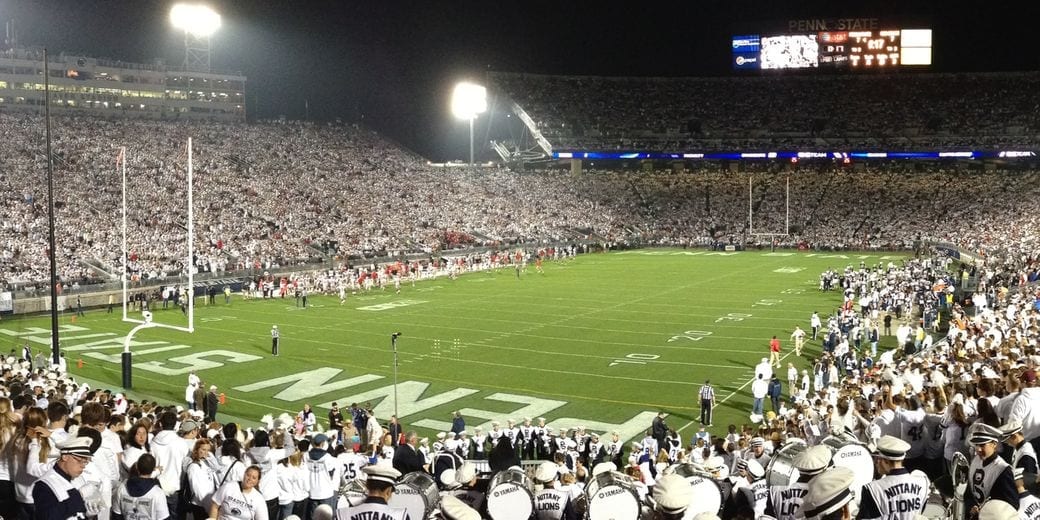 Appalachian State Mountaineers vs. Penn State Nittany Lions

College Football Week 1
Date and Time: Saturday, September 1st, 3:30pm EST
Where: Beaver Stadium, University Park, PA
TV: BT
by Bob Clark, Football Handicapper, Predictem.com
Point Spread: APP +24/PSU -24
Over/Under Total: 54
The opening weekend of college football typically has a few big games but it's also filled with Power Five teams beating up on FCS schools or smaller versions of those teams in the FBS. On paper, this is one of those games with Appalachian State heading into University Park to take on the Penn State Nittany Lions. Although this is supposed to be one of those games where the big guy imposes his will, anytime we hear the name App State, only one thing comes to mind… that fall day in Michigan in 2007. Of course, this is not the same Mountaineers team that shocked the world that day, but it does bode as a reminder that ANYTHING can happen in college football.
Penn State and Appalachian State have never met before. Penn State over the last three seasons have been a legit contender to make the College Football Playoff as well as win the National Title. Just two seasons ago, they were robbed when Ohio State was given the bid only to lose to Clemson (futures picks) 31-0. Last season, Penn State was primed for a Playoff run but a couple losses kept them out of the top four. They did have a great season overall.
THE LINE:
The Penn State Nittany Lions are a 24 point favorite at home over Appalachian State while the total is set at 54. As of late Monday night, 62% of the documented action thought that Penn State would get the easy win and cover at home while 38% thinks that Appalachian State could keep it somewhat respectable. As for the total, the action is somewhat even with 53% thinking the total stays below the posted 54 points.
PENN STATE TRENDS AND KEYS TO VICTORY:
Penn State is 10-2-2 ATS in their last 14 games played at Beaver Stadium
Penn State has covered the spread or pushed in 8 of their last 11 games overall
Penn State has covered the spread in 4 of their last 5 Non-Conference Games.
Penn State will still be a contender for the Big Ten title as well as the National Title. Of course, their biggest loss was that of stud running back, Saquon Barkley, who is +140 to win ROY, but the Nittany Lions still have Heisman hopeful quarterback Trace McSorley at the helm along with a great offensive line. Also on offense, running back, Miles Sanders, plans to pick up where Barkley left off. Other weapons on offense include wide receivers Juwan Johnson and DeAndre Thompkins. Penn State should be strong on offense and that along with a still solid defense could lead the Nittany Lions to their third straight eleven win season. How do the Nittany Lions avoid the monumental upset? Easy. Just play football. The only way that the Mountaineers can pull this off is if Penn State allows them to by making mental mistakes and busted coverages. I am not saying it will be easy to cover the 24 points, but there is absolutely NO WAY that Appalachian State should win this game.

APPALACHIAN STATE TRENDS AND KEYS TO VICTORY:
Appalachian State has covered the spread in their last 4 games overall.
Appalachian State is 7-2-1 ATS in their last 10 road games.
Appalachian State has covered the spread in 4 of their last 5 games played on grass.
Appalachian State stole the hearts of many back in 2007, but that was eleven years ago. Times have changed and that game has no bearing on what will take place in Pennsylvania this Saturday night. With that said, this Mountaineers team does have some experience from last season. They return eleven starters (six on offense and five on defense) to a team that won the Sun Belt Title just last season. If Appalachian State has any dreams of pulling off yet another upset of a Big Ten team ranked in the top 10…they will wake up. It will take a miracle. However, miracles have happened in sports…many times. In order for this miracle to come to fruition though, App St MUST shut down the Penn State run game. This will be no easy task but it is a must to get the Nittany Lions into obvious passing downs in order to get stops and control the game. Also, as cliché as is sounds and like I always say…eliminate turnovers. A game like this, App State must win the turnover battle to have any chance of keeping it close, much less winning.
PREDICTION:
As much as I would like to see an Appalachian State upset this weekend, it just isn't in the cards. I think they may look good for a quarter or so, but the depth and strength of Penn State will eventually take over. I like Penn State to win this game somewhere around 38-13 and get the cover at home over an undermanned Mountaineers team.
Bob's Football Pick: Take the Penn State Nittany Lions -24 over Appalachian State
<aside><h4 class="widgettitle">More NFL Picks</h4><!-- [et_pb_line_break_holder] -->
<!-- [et_pb_line_break_holder] --><div class="widget-footer"><a href="https://www.predictem.com/nfl/">See all the NFL picks.</a></div><!-- [et_pb_line_break_holder] --><hr><!-- [et_pb_line_break_holder] --><style><!-- [et_pb_line_break_holder] -->ul.postsbycategory {list-style-type: none; margin:0; padding: 0; margin-left: -3px}<!-- [et_pb_line_break_holder] -->.postsbycategory li {padding: 5px 0px; display:block; clear: both; border-bottom: 1px solid #ccc;line-height:16px!important; min-height: 50px;}<!-- [et_pb_line_break_holder] -->.postsbycategory li a{color: #000; font-size: 14px!important;}<!-- [et_pb_line_break_holder] -->.postsbycategory img {width: 85px!important; height: 40px;<!-- [et_pb_line_break_holder] -->float:left; <!-- [et_pb_line_break_holder] -->padding:0px;<!-- [et_pb_line_break_holder] -->margin: 0px; margin-right: 8px;<!-- [et_pb_line_break_holder] -->border: 1px solid #EEE;<!-- [et_pb_line_break_holder] -->}<!-- [et_pb_line_break_holder] --> .widget-footer a {color: #666;}<!-- [et_pb_line_break_holder] --> .widget-footer a:hover {padding-top: 2px;}<!-- [et_pb_line_break_holder] --> </style></aside></aside>