Washington Football Team vs. Dallas Cowboys Pick ATS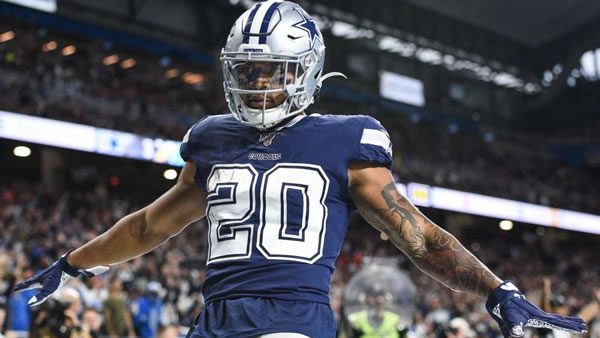 Washington Football Team (6-8 SU, 5-8-1 ATS) vs. Dallas Cowboys (10-4 SU, 11-3 ATS)
Date/Time: Sunday, December 26, 8:20 EST
Where: AT&T Stadium, Dallas
TV: NBC
Point Spread: Wash +10.5 / Dal -10.5 (GTBets – Deposit $100 to $500 and they'll match you dollar for dollar with a 100% REAL CASH bonus!)
Over/Under Total: 47.5
Dallas is the site of this week's Sunday Night Football matchup featuring the Washington Football Team and the Cowboys. Betanysports.EU has made America's Team 10.5 point favorites and set the game total at 47.5. Let's count on the Football Team to keep this game close and cover the double-digit spread. Here are three reasons.
Dallas Offense Is Stuck In Neutral
The Cowboys are 2nd in the league in points scored and 4th in yards per play for the season but have not been the same team over the past month. Over their last five games, they are only averaging 340 yards per game and have turned over the ball seven times. Dak Prescott's play has been one of the causes of this recent offensive slide. He has averaged under 6 yards per attempt in four of the last five games and can't seem to get on track. Two weeks ago, in the first game with Washington, he completed only 56% of his attempts, threw two picks, and took four sacks. Last week's match stud offensive tackle Tyron Smith missed the game due to his nagging ankle injury, and it is unclear if he will suit up this week and the Cowboy offense is never as efficient when Smith is out of the lineup. Even if he does give it a go, it's hard to expect that he will make it through the game. The other issue holding back the Cowboy offense is Ezekiel Elliott, who has not topped 4 yards per carry in a game since week nine and has not topped 52 rushing yards in a game since week 6. We don't know if Zeke is hurt or just washed up, but it doesn't matter. Tony Pollard has proven he is the better player, but he has been hurt, and Mike McCarthy seems to prefer Elliott. There is no reason to believe McCarthy can get his offense back on track for this week.
Washington's defense has been playing better as the season continues despite some key injuries. The Football Team front seven has finally started shutting down opposing running games and getting after quarterbacks. They sacked Dak four times in Week 14 and got to Jalen Hurts three times on Tuesday night. The Football Team picked off Prescott twice in that Game 2 weeks ago and held him to only 211 passing yards. Dallas managed 122 rushing yards in that game but only 3.5 yards per carry and had no rush longer than 11 yards. The Washington defense should be able to keep the Cowboys offense in check this week. Dallas offense flows through their running game, which they will not be able to get going. With Prescott not being sharp and the offensive line issues, look for Dallas to sputter along again. With that said, it won't be a shutout, so the Washington offense will have to score to keep the game close.
The Football Team Offense Will Show Up
Washington's offense was hitting their stride heading into the week 14 game with the Cowboys. They had won the four previous games, and quarterback Taylor Heinicke had gotten comfortable running the show, then the whole offense melted down. Heinicke was beaten up in that game, completed only 44% of his passes, and ended up sharing time with Kyle Allen, who didn't do any better. Last week the offense didn't have a chance to rebound with both starting quarterbacks and members of their offensive line out on the Covid protocol. This week the offense should be able to bounce back. At least one of either Allen or Heinicke should be available (there is not much difference), and the offensive line should be back at full strength. Go to wide receiver Terry McLaurin was also knocked out of that week 14 game and was back on the field Tuesday, so he will be good to go Sunday Night. The offense will run through Antonio Gibson and the running game. Gibson has evolved into an elite running back but was held to only 36 yards in week 14 and then only 26 last week as the Eagles centered their game plan on shutting him down. In the four games prior to week 14, Gibson averaged 90 rushing yards per game and should have better results this week.
More Picks: Get the ZMan's Bears vs. Seahawks Point Spread Winner >>>
The Dallas defense ranks 7th for the year in points allowed, are tied for the league-best with 31 takeaways but is 26th in yards per play against. Micah Parsons and Trevon Diggs have elevated the play of the Cowboy stop unit. Parsons ability to pressure quarterbacks and Diggs' 10 interceptions are game-changers. Parsons registered two of the Cowboys five sacks in Week 14, and Diggs defended three passes in the game. Washington will be more aware of these players this week to keep them from taking over the game. Parsons and Diggs are the main reason that Dallas has the best 3rd down defense in the league, so look for Washington to make sure they are getting positive yardage on the early downs to stay out of high-risk 3rd downs. I expect the Washington offense learns from the meltdown they had in Week 14 and has a better offensive performance this week.
Look For a Washington Rebound
As stated above, the Football Team had everything going in the right direction prior to the week 14 disaster with Dallas. Last week they were lucky to field a team, and now they get a chance to get back at their arch-rivals. With the NFC playoff picture still wide open for the 7th seed, Washington can still get in if they run the table. This is Coach Ron Rivera's chance to rally the troops and make a strong run at sneaking into the tournament. Dallas, on the other hand, will have the same mentality they had the last two weeks – just get out of the game with a win. They allowed a late TD to Washington in Week 14 to only win by seven, then settled for field goals last week against the helpless Giants. They did win that by 15 but only scored 21, knowing that Mike Glennon couldn't lead that offense to double-digit points. I think this is a one-score game that comes down to the wire, with Washington having a chance to steal a win in the Big D.
Take the Points With Washington
The play on Sunday night is to take the Football Team +10.5. That's too many points for a struggling Cowboys team to lay to a division opponent with revenge on their minds. Note: This should be a really good game to live bet. If you haven't seen the live wagering platform at Bovada Sportsbook, you-are-missing-out! It's amazing! See our Bovada Review and check them out! Top 3 sportsbook on the web!
10* GAME OF MONTH **INSANE 75% NFL PLAYOFFS!
AAA Sports has gone 5-1 (83%) with their NFL Playoff picks over the L2 rounds and overall they enter the Super Bowl having gone an INSANE 75% (9-3!) with ALL of their NFL Playoff releases! AAA Sports is playing with HOUSE MONEY in BOTH the NFL and College Football this season and they're UNLOADING MASSIVELY in this year's Super Bowl with BOTH SIDE and TOTAL! BE THERE!
Beat your bookie with our NFL underdog BEST BET of the week!
Beat the bookie with our Weekly NFL player prop bets!
List of this week's line moves, why they happened and whether they're worth betting or not.
Free computer generated simulations for every weekend of the football season!
Crush your co-workers with Gman's office pool predictions where he picks every game against the spread!