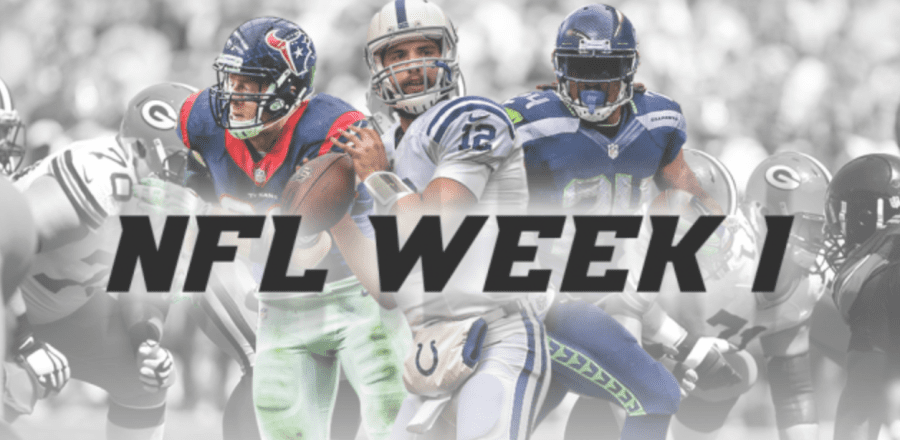 To start NFL week 1 Predictem had nine Handicappers contribute 23 free NFL picks and predictions. We have been covering week 1 lines for you since the start of summer, looking for early value, up until kick off today! Here is today's NFL schedule, the capper's pick, and breakdown of their game write-ups! All times are Eastern Standard.
1pm: Buffalo Bills @ Baltimore Ravens

Keith Allen: Ravens
Keith Allen got in early and managed to grab the Ravens -6.5 while predicting the line would continue north. The spread is now up to 7.5 and even 8 at some sportsbooks. Bettors are going to have to decide if there is enough value to cross the bridge to the other side of that touchdown! Allen also had under 41 which has since moved down to 39!
"The Ravens will bring a balanced attack to week 1. Offensive coordinator Marty Mornhinweg has been designing plays that include both Flacco and Jackson on the field and it is possible Jackson will be the QB for a limited number of plays. The Ravens offense will be much more difficult for defenses to prepare for and the Bills will have to be on their toes."
Keith Franks: Bills
Keith Franks selected the Bills when it was at 7. If you agree with Franks you are in good shape to still get the best market price on the play. With some sportsbooks hanging 8 the play is to sit tight and pull the trigger when you observe books start to head back south or it's 5 minutes til kickoff.
"The Ravens have a notorious reputation of being a tough out in Baltimore but that seems to be perception more than fact at this point. In 2017, Baltimore was 5-3 SU at home with wins in the included sample, featuring Cleveland, a Deshaun Watson-less Houston, and an Andrew Luck-less Indianapolis. Not exactly convincing by any take. Lest also forget that costly loss against Cincinnati, which prevented the Ravens from qualifying for the playoffs, took place at M&T Bank Stadium. We are not calling for an upset here but we do have a touchdown to work with and that is likely an inflated number as well by virtue of this narrative."
1pm: Cincinnati Bengals @ Indianapolis Colts

Loot Levinson: Bengals
The Lootmeister got in early enough to get the field goal working for him. The spread is now down to 2.5 and 2 at some sportsbooks. If you liked Loot's play and waited it is a tough purchase for you. If you thought Loot was in left field on this one, well, enjoy your -2.
"It's a difficult to envision there being no rust for Luck. It's been a long road and a lot of struggle for him to get back to this spot. This isn't the easiest defense to face in a first game out, with Cincy potentially a stingy "D," in addition to being an intimidating one, even without suspended Vontaze Burfict flying around."
1pm: Houston Texans @ New England Patriots

Mike Mann: Texans
Mike doesn't like how many question marks surround the Patriots in their opener. The Pats have gotten used to slow starts and realize the season is marathon, not a sprint. They know their team will look different as the season progresses.
"First up for the Patriots will be a team and quarterback that gave them fits last year in DeShaun Watson and the Houston Texans. Watson threw for over 300 yards while posting two touchdown and two interceptions in a close 36-33 Patriots win early last season in Foxboro that they didn't take the final lead in until there was just 2:01 left. New England has struggled of late to start their seasons, not having covered as a week one favorite since 2012 and only having covered in their first home game of the season once since 2011."
Keith Allen: Texans and Over
Keith also likes the Texans in this one and is also playing the over 51. And good news for bettors who agree, that line moved down to 49.
"I think Over 51 is also a very good play in this one. It's a high number, but there were 69 points scored in the week 3 game between these 2 teams last year and the same number in the Pats opener against the Chiefs." 
1pm: Jacksonville Jaguars @ New York Giants

Keith Franks: Jaguars
Franks makes a strong argument for a revenge game out of Jacksonville. Not because the Giants deserve it but because they are up next and the Jaguars are coming off the painful AFC Championship game. The Jags are a team showing growth and feel they know know how to take the next step led by their defense.
"For those that need a reminder of how good this Jacksonville defense was in 2017, this was a team that was flirting with the possibility of becoming the defense in NFL history to win the "triple crown". The Jaguars defense finished second in sacks (55), total defense (286.1 ypg), and points per game (16.8 ppg). This team also had 33 total takeaways and led the league in passing defense and defensive touchdowns."
Keith Allen: Giants & 1st half Under
Keith also thinks the defense will be the deciding factor but for the Giants. He is also looking for both teams to feel out the first half on offense and sees value in under 21.5 for the first half.
"The key will be if the Giants front seven can shut down the Jags running attack and put Bortles in difficult 3rd down situations. I like new defensive coordinator James Bettcher and think he will be able to attack the Jags offense and keep Bortles off balance. The Jags are talking about a 16-0 schedule and have the Patriots in week 2, so I could see them looking past their first week opponents that only won 3 games last year."

1pm: Pittsburgh Steelers @ Cleveland Browns

Dave Wilson: Steelers
Dave points to Pittsburgh having the best receving core in the league and Cleveland's inability to handle teams with threats in the air and on the run. Dave bought in to the Steelers at -4. A few sportsbooks still have 4s as of early Sunday morning.
If Cleveland expects to hang with the Steelers they will need to contain the triple headed receiving monster in Brown, Heyward Bey, and Schuster. Last year the Browns focused on stopping the run but were not successful on slowing down the passing attacks.
1pm: San Francisco 49ers @ Minnesota Vikings

Keith Allen: Vikings
Keith believes the league had enough time to digest the new look 49ers and the Vikings have the positional advantages to give Jimmy G his first defeat.
Shanahan has the ability to use his skill players to exploit opponent's weaknesses but there is not a matchup that favors the 49ers offense in this one. Zimmer will have his team focused and ready to start another championship run and will be up to the challenge of giving Jimmy G his first NFL loss – by at least 6 points.
1pm Tampa Bay Buccaneers @ New Orleans Saints

Jay Horne: Saints
Jay is laying the points and taking the Saints. At the time of Jay's selection he was laying a whopping 10.5 points on a line that opened at 7. The line settled at 10 this morning. It's a lot of points unless your a Buccs backer… then it's not enough.
Mark Ingram is sidelined for the first 4 games of the season for failing the NFL's drug enforcement policy. While this factor may seem like a bad thing for the Saints, I believe it could be a gift in disguise. Alvin Kamara's 2017 season was a nonstop highlight reel and he accomplished everything mainly in a backup/change of pace role. Most experts around the league agree that Kamara is the better back.

1pm: Tennessee Titans @ Miami Dolphins

Bob Clark: Titans
The Titans are down to 1 point favorites and Bob expects the new coaching staff to Titan-up… the reigns and make its mark early this season. Bob also doesn't have confidence in the Miami defense or in Tannehill after being out for so long.
I have to see this Miami defense grow up and make some plays before I praise them and I also want to see how Ryan Tannehill plays after being out for so long. I can see this game being close all the way through but in the end I like the Titans to pull out a 24-20 type win to get the cover on the road. It's going to be a good one but until I see otherwise, I will bet against Miami here.

4:05pm Kansas City Chiefs @ Los Angeles Chargers

Loot Levinson: Chargers
LL doesn't like the situation for Mahomes. He is coming off another injury, facing a challenging defense without enough protection. You want to root for the kid but not this afternoon when Loot needs the Chargers to cover the -3.5
The Chiefs lost some steam on their line, which wasn't very good to begin with. Fisher has been so-so, not what you want with a top overall pick. Center Mitch Morse is average on his best day and it's just not a great group to protect a QB who will be trying to find his bearings. 
Keith Allen: Chargers
Keith agrees with Levinson on this selection but he also likes the over which has popped up two points since he played it at 47.
This spread has moved up from 3 to around 3½ which makes it much less attractive, but I believe the Chiefs defense will not be ready for this week 1 challenge. Los Angeles will make KC defend the whole field and I don't think they will be up to this challenge. Mahomes should be able to put some points on the board, but I think LA's pass defense will make plays and be the difference in the game.

4:25pm: Dallas Cowboys @ Carolina Panthers

Bob Clark: Panthers
Bob doesn't love the Panthers as much as he hates the Cowboys here. If you too hate the Cowboys you can currently get the Panthers at a half point lower than Bob did. That's a big half point off the key number 3!
So this season which Cowboys team do we get? The 13-3 Cowboys who made a late postseason run or the 9-7 version who underachieved all year? One of the most glaring questions for Dallas is how they will handle the loss of Dez Bryant. In 2017, Bryant caught 69 passes for 838 yards and six touchdowns…

4:25pm Seattle Seahawks @ Denver Broncos

Loot Levinson: Bronos
Loot likes the Denver Bronos giving up a field goal at home as he sees too many missing pieces in the Seattle Defense.
It's not just that they lost so many pieces over the years, but even some of their remaining menace on "D" is out, with KJ Wright out indefinitely and Earl Thomas still in the midst of a holdout. All of a sudden, it's the Griffin twins, Bobby Wagner, Frank Clark, a possibly rejuvenated Dion Jordan, and nothing left from the Legion of Doom.

4:25pm Washington Redskins @ Arizona Cardinals

Keith Allen: Cardinals
This game sat as a pickem until a few days ago. Fortunately for those who agree with Keith we are still within a field goal. If you are playing the other side, sit tight and see if the number goes higher before game time!
The line implies that Washington is the better team but Arizona won more games last year and has improved at quarterback and added one of the league's premier running backs, plus Washington has to travel across country. Four of the six games that Arizona covered last year were in the desert so they have a strong home field advantage. Look for Arizona to be able to control the game with their running attack and Bradford to be able to convert third downs, end drives with points.

8:20pm Chicago Bears @ Green Bay Packers

Ted Walker: Packers
Ted pegs the Aaron Rodgers' return as the difference maker tonight, seemingly downplaying the Bears defensive acquisition. If you agree with Ted the -7 is still available at some sportsbooks.
Aaron Rodgers returns healthy after a broken collarbone in 2017 essentially washed out the Green Bay season. Rodgers did play against the Bears in Week 4 last year, putting up four touchdown passes in what was a typical day at the office for him. A-Rod is 15-4 against Chicago with 42 touchdowns and just nine interceptions. He did lose his favorite target in Jordy Nelson but he still has Davante Adams and Randall Cobb, plus a shiny new tight end in Jimmy Graham.